LEE COUNTY – We heard bad news. Apparently Lee County wants to cut down Royal Palms because they don't fit highway standards and folks run into them.
In a state that depends upon tourism, you would think that the bureaucrats would know better. The road in question is part of a planned development, and the trees were placed there because of their value to both the look of the place, and the environment. This road is NOT an Interstate highway, where you want trees to be set back because cars are going so fast. Instead, on slower roads, you need trees to close in the space, so drivers dont feel like going so fast. Read more
TALLAHASSEE – At its meeting Wednesday in Apalachicola, the Florida Fish and Wildlife Conservation Commission (FWC) selected three sites for an anchoring and mooring pilot program. Two more will be chosen in April.
Following staff recommendations, Commissioners voted to select the cities of Sarasota and St. Petersburg and Monroe County as sites for the mooring field pilot program. A mooring field is a controlled area where boaters tie their vessels to a floating buoy, which is secured to the bottom of the waterway.
Under Florida statute, the FWC, in consultation with the Department of Environmental Protection (DEP), must establish a pilot program regulating anchoring and mooring outside of marked public mooring fields.
"We hope the project promotes safe public access to Florida's waters, protects the marine environment and deters improperly stored, abandoned or derelict vessels," said Maj. Jack Daugherty, leader of the FWC's Boating and Waterways section.
By July 1, 2011, the FWC must have selected all locations for the pilot project. The requirements include two on the east coast of Florida, two on the west coast and one in Monroe County, so the remaining selections must be on the east coast.
The FWC staff began work on the program in October 2009, when it sent out letters of solicitation. Fourteen counties and municipalities responded with letters of intent to participate.
"Our staff worked with DEP to gather data to determine appropriate sites for the project," Daugherty said. They analyzed geographic characteristics of the area, services provided at the mooring field sites, usage fees and the average number of boats inside and outside of the mooring fields.
At its December meeting, the Boating Advisory Council, which makes recommendations to the FWC and the Department of Community Affairs regarding issues affecting the boating public, advised FWC staff to move forward with the site recommendations on the west coast and in Monroe County.
Wednesday, staff presented recommendations to the Commission on those recommended sites on the west coast and in Monroe County. Commissioners approved FWC staff-recommended sites and a request for more time to collect and analyze more data regarding anchoring and mooring on the east coast.
FWC staff will present the data to the Boating Advisory Council in March for recommendations, and then return at the April Commission meeting with suggestions for the two remaining east coast pilot sites. The Commission also directed staff to work with the city of Stuart in an attempt to be added as a third pilot program site.
Please visit MyFWC.com/Boating or call the FWC's Boating and Waterways Section at 850-488-5600 for more information.
Do readers have any thoughts on this program? Comment below:
TAMPA – This video has footage of the old monorail, and also the Crown Colony Restaurant.
TALLAHASSEE – The recreational and commercial harvest of shallow-water groupers (including gag, black grouper, red grouper, scamp, red hind, rock hind, coney, graysby, yellowfin grouper, yellowmouth grouper and tiger grouper) will reopen on May 1 in all Atlantic Ocean and Monroe County waters.  The harvest of these groupers has been closed since Jan. 1 to address overfishing of grouper in the Atlantic.
A 3-fish-per-person aggregate daily recreational bag limit applies for all groupers in Atlantic and Monroe County waters, and the captain and crew of for-hire vessels are not allowed to keep any species in the aggregate grouper bag limit.  Anglers may take no more than 1 gag or black grouper (not both) within the aggregate grouper limit in Atlantic and Monroe County waters, and dehooking tools must be aboard commercial and recreational vessels for use as needed to remove hooks from Atlantic reef fish.
More information on grouper bag and size limits, gear restrictions and fishing seasons, including Gulf of Mexico grouper regulations, is available at MyFWC.com/Rules, click on "Fishing – Saltwater."
TALLAHASSEE – As of March 19, biologists with the Florida Fish and Wildlife Conservation Commission's (FWC) Fish and Wildlife Research Institute (FWRI) have documented 431 manatee carcasses in state waters so far in 2010. This preliminary data indicates that in just three months, the number of manatee deaths has exceeded the highest number on record for an entire calendar year, which was 429 in 2009. The cause of death for the majority of these animals is cold stress.
The "cold-stress" category accounts for 222 documented manatee carcasses; however, it is likely the cold temperatures also contributed to many of the 108 deaths in the "undetermined" category and the 64 deaths in the "unrecovered" category.
Manatee deaths are categorized as "undetermined" when biologists are not able to confirm the cause of death, often because the carcasses are too badly decomposed. The "unrecovered" category includes carcasses that are unavailable to scientists, such as when carcasses are found in remote locations.
Unfortunately, the number of recovered carcasses for this year continues to be well above long-term averages.  As the rate of cold-related deaths diminishes, FWC staff will begin to focus on determining the long-term implications for the manatee population, a process that could take several years.
The period of prolonged cold weather earlier this year exposed manatees in Florida to colder than normal water temperatures. Exposure to low temperatures over a period of time can cause a condition called "manatee cold-stress syndrome," which can result in death.
"The unprecedented rate of mortality this year is of great concern," said Gil McRae, FWRI director.  "FWC staff, partners and volunteers have done a tremendous job working around the clock for weeks recovering carcasses and conducting rescues throughout Florida."
Since the cold weather conditions began to affect Florida, FWC staff and conservation partners have rescued 48 manatees from across the state and continue to respond to reports of distressed manatees.
To report a dead or distressed manatee, call the FWC Wildlife Alert Hotline at 888-404-FWCC (3922).
For additional information about manatee conservation, visit MyFWC.com/Manatee. For more information on manatee mortality research, visit http://research.MyFWC.com/manatees.
TALLAHASSEE – Gov. Charlie Crist and the Florida Cabinet approved an option agreement today between the state of Florida and the Alachua Conservation Trust, Inc. to expand recreational opportunities and conserve precious natural resources. The 500 acres located southeast of Gainesville is a critical addition to the Paynes Prairie Preserve State Park and a deal the state has been looking to strike since the early 1970s.
"With Governor Crist's and the Cabinet member's signatures on this agreement we finalize an important project that will help promote nature-based tourism and be a beautiful area for Floridians and visitors to enjoy," said DEP Secretary Michael W. Sole. "Paynes Prairie is rich in natural resources and today's agreement will help protect important wildlife habitat and at the same time enhance recreational opportunities."
Paynes Prairie stretches out across 21,000 acres and is a natural resource of national importance.  In 1971, Paynes Prairie was designated a national landmark by the U.S. Secretary of the Interior because it possesses exceptional value in illustrating U.S. heritage and is one of only 600 designations nationwide.  Paynes Prairie contains more than 800 plants and a large variety of wildlife including bison, cracker horses and more than 270 species of birds.
Since a significant portion of the Paynes Prairie basin is located on this property, it is important for Floridians to possess ownership.  As part of the recreational planning process a trail hub to connect Prairie Creek Preserve to the east and Gainesville-Hawthorne State Trail is being explored. Acquiring the land will protect the amount and quality of water that feeds Paynes Prairie, help conserve wildlife habitat, increase recreational activities and provide better park management.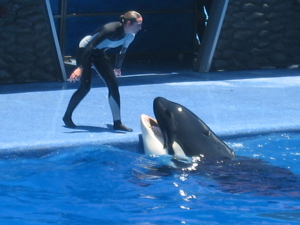 ORLANDO – So today, we have a trainer who died at the hands of killer whale of stage-name Shamu, whose actual name is Tilikum aka Tilly.
There's a reason why they call the breed a killer whale. Its because, well, they've got a bit of a streak in 'em. They get that streak from being in the ocean, where they kind of rule the joint.
Apparently, Tilly was "was thrashing her around pretty good" and killed the trainer just before the start of a small-group public performance, the Orlando Sentinel newspaper said.
The Sentinel reported that SeaWorld President Dan Brown made a statement on the issue, saying that he had "initiated an investigation to determine, to the extent possible, what occurred."
There will, of course, be an investigation. But looking back at the last time we were at the show, it was quite far from the quiet, respectful shows of old. The music was loud, deafening, almost angry. It was very tribal, with heavy bass. Creepy, in fact.
Believe, they said! They give the kid a necklace. Loud music. Screams. Bring the animal out! So loud music, a small, contained area, a large killer whale and age, and you have the recipe for a mess.
Frankly, we didn't like it. And we can see while Tilly, who is getting old and crotchety, would not like it either. Sad to say that the trainer died.
Animals get bored. The animals get old. And these whales are wild. But the Shamu show, we think, had to play a part in it.
Love for some other thoughts on the issue.
TALLAHASSEE- Lu, resident hippopotamus at Homosassa Springs, last week celebrated his 50th birthday with park staff, visitors and Homosassa Elementary School students who presented the hippo with his own birthday cake.
A fixture at Homosassa Springs since 1964, Lu's claim to fame is his role as a former movie and television star with the Ivan Tors Animal Actors troupe, which wintered at the park while in private ownership. He is credited in the 1960s movies Daktari and Cowboy in Africa, and in television specials such as Jack Linkletter Show and Herb Alpert Special.
"This year marks a special milestone for both Homosassa Springs and the state park system as a whole," said Homosassa Springs Manager Art Yerian in a press release. "Both a 50th birthday and the 75th anniversary of Florida State Parks makes this a great time for residents and guests to experience the fascinating wildlife and affordable fun at Homosassa Springs Wildlife State Park."
Lu, an African Hippopotamus, was born at the San Diego Zoo on January 26, 1960.  He weighed 90 pounds at birth and now weighs more than 6,000 pounds.  As a vegetarian, Lu consumes 15 pounds of alfalfa hay, four scoops of herbivore diet and a five gallon bucket of vegetables and fruit every day.
Although Lu's fame has remained steady for more than four decades, his state park habitat was once jeopardized.  When the Florida Park Service purchased the attraction in 1989, the state planned to shift the emphasis of the park to native Florida wildlife and find homes for all the exotic species, including Lu.  Public support, however, led Governor Lawton Chiles to grant Lu an exemption in 1991.  Special Florida citizenship has allowed Lu to stay at the park, and his fans to continue to display their appreciation annually at his birthday celebration.
Located 20 miles north of Florida's newest state park Weeki Wachee Springs, Homosassa Springs is one of the region's most popular attractions. An underwater manatee observatory provides a unique view of Florida's famed sea cows. In addition, a 1,600-foot Wildlife Walk showcases the natural habitats of bobcats, cougars, otters, bears and hundreds of birds. The state park also offers boat tours, trails, picnicking and an interactive Children's Education Center and Museum. To learn more about Homosassa Springs and Lu the hippo, visit http://www.floridastateparks.org/homosassasprings/default.cfm.
FLAGLER – The Florida Department of Environmental Protection's Washington Oaks Gardens State Park was recently listed on the U.S. Department of the Interior, National Park Service's National Register of Historic Places. The designation includes the homes, gardens and groves of Louise P. and Owen D. Young and is only the second Historic place to be listed in Flagler County.
"Florida's state parks protect a number of federal and state designated historic landmarks, demonstrating our commitment to preserving Florida's heritage," said Florida State Parks Director, Mike Bullock in a press release.
Washington Oaks Gardens State Park is the 39th Florida state park to receive designation on the National Register of Historic Places. In order to be on the list, a property must pass the National Register criteria. This criteria includes age, integrity and historical significance and is coordinated through State Historic Preservation Offices.
General Joseph Hernandez, a Floridian of Minorcan descent, purchased the land that now comprises the park in 1818 and named it "Bella Vista," meaning "beautiful view" in Spanish. Hernandez was a militia general who commanded troops in north Florida during the Second Seminole War. On his many land holdings, Hernandez raised cotton, sugar and crops to feed his family and staff.
Much of what remains in the park today was left by Mr. Owen D. Young and his wife Louise, who bought the property in 1936 as a winter retreat. Mr. Young helped found Radio Corporation of America and became Chairman of the Board of the General Electric Company in 1922. Mrs. Young donated the property to the state of Florida in 1964 following the death of Mr. Young.
Today's visitors to Washington Oaks Gardens State Park can enjoy hiking and biking, nature trails, wildlife viewing, beaches, fishing and interpretive exhibits in addition to the park's gardens.
The National Park Service's National Register of Historic Places is the official list of the nation's historic places worthy of preservation. The national program, authorized by the National Historic Preservation Act of 1966, coordinates and supports public and private efforts to identify, evaluate and protect America's historic and archeological resources. To learn more about the National Register of Historic Places, visit www.nps.gov/nr.
To follow Florida's state parks on Twitter, visit www.twitter.com/FLStateParks. For more information about Florida's state parks, visit www.floridastateparks.org.
TALLAHASSEE – Below are official hunting dates from the Florida Fish and Wildlife Conservation Commission. Seasons and dates are not applicable to wildlife management areas.
Season                        Northwest Zone            Central Zone            South Zone
Archery                        Oct. 17 – Nov. 15         Sept. 26 – Oct. 25    Sept. 12 – Oct. 11
Deer-dog training        Oct. 31 – Nov. 19         Oct. 3-22                Oct. 3-22
Crossbow                     Nov. 30 – Dec. 6          Oct. 26-30              Oct. 12-16
Muzzleloading gun       Nov. 20-22                 Oct. 31 – Nov. 8       Oct. 17-25 Feb. 18-28
General gun                  Nov. 26-29                 Nov. 14 – Jan. 24     Oct. 31 – Jan. 10, Dec. 12 – Feb. 17
Antlerless deer              Dec. 19-25                  Nov. 21-27            Nov. 7-13
Fall turkey*                   Nov. 26-29                  Nov. 14 – Jan. 10    Nov. 14 – Jan. 10, Dec. 12 – Jan. 17
Quail and gray squirrel  Nov. 14 – March 7        Nov. 14 – March 7   Nov. 14 – March 7
Bobcat and otter            Dec. 1 – March 1         Dec. 1 – March 1      Dec. 1 – March 1
Spring turkey                 March 20 – April 25**  March 20 – April 25  March 6 – April 11
Wild hogs, rabbits, raccoons, opossums, skunks, nutrias, beavers and coyotes may be taken year-round.
* No fall harvest of turkeys allowed in Holmes County.
** Spring turkey season is limited to March 20 – April 4 in Holmes County.