University of Florida extension agents believe olive trees are good idea in the Florida climate. Not only are they productive, but they require little irrigation once established.
Of course, the trees look like the Mediterranean, and olives can be of course eaten or pressed for oil.
Florida agronomists recommend self-fertile cultivars like 'Arbequina', 'Mission', or 'Manzanilla'; planting more than one will increase production.
They need a sunny area and well-drained soil, and will produce in three years.
Find out more HERE.
CRYSTAL RIVER –  A Florida man is drawing crowds and notoriety for his regular swims as a merman in Crystal River, and has created a whole cottage industry with his Mertailor mermaid suits.
Entrepreneur Eric Ducharme, who appears on TLC's Crazy Obsession show, takes free swims in Crystal River, which is known for its clear water and manatees.
He started Mertailor LLC (photo of Mertailor at right from their Facebook) in 2006, when he was just 16 years old and performing as the prince in Weeki Wachee Springs Little Mermaid show. He has made hand-painted custom mermaid tails for places and celebrites like Lady Gaga, RuPaul, Target and Saturday Night Live. Read more
THE VILLAGES – This retirement mecca north of Tampa near Lady Lake is the world capital of golf carts. Low emission, inexpensive, and earth friendly, these carts allow seniors to travel around the town without having to have a car.
Here, a video profile of the golf carts at The Villages by CBS Correspondent Bill Geist.
Way too much discussion of whether a Florida sea monster is actually really just a manatee.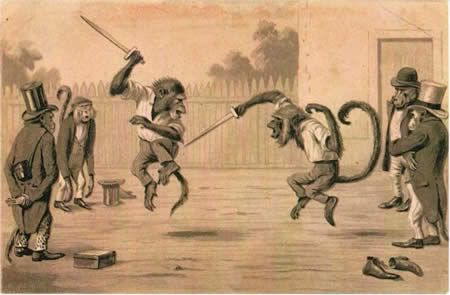 Monkey Might Well Have Herpes
TALLAHASSEE – The elusive rhesus macaque monkey darting around the Tampa Bay area and cheered on by 60,000 Facebook fans is generating a lot of banter.  However, wildlife officials caution that this monkey is highly stressed and potentially very dangerous, and is itself in danger.
According to the Florida Fish and Wildlife Conservation Commission (FWC), rhesus macaques are bad-tempered, powerful monkeys that, if cornered, can injure or even kill an adult human.  Of particular concern to wildlife officials is that some area residents are not taking these warnings seriously and are tempting fate by trying to feed or catch this animal with their hands – a very risky and foolish undertaking, according to the FWC.
The Centers for Disease Control reports that roughly 80 percent of rhesus macaques carry the simian herpes-B virus.  If the animal bites, scratches or even spits on you (one of many bad habits this species exhibits), you may become infected.  If infected with this virus, there's an 80-percent chance you will die from an untreated wound.  Even a treated wound can be fatal.
"Although this marauding monkey makes for humorous reading and anecdotes around the water cooler, people should not lose sight of what's best for the animal and for public safety," said Dr. David Murphy, staff veterinarian at Tampa's Lowry Park Zoo.
According to the FWC, feeding wildlife is the primary factor causing wildlife to destroy property and to attack pets and humans.  Monkeys are no exception.
"Encouraging this animal to approach or remain close to humans for any reason can lead to a defensive attack if the animal feels trapped or otherwise threatened by miscued human body language," said Capt. John West, who deals with captive wildlife issues for the FWC's Division of Law Enforcement.
Also in doubt is the monkey's ability to continue to live on its own in a hostile, urban environment.  Rhesus macaques have a highly evolved society where the health and well-being of each individual is largely dependent on the cooperation of other troop members, especially for defense purposes.  A lone rhesus macaque stands little chance for long-term survival outside its troop.  Predation on a lone macaque by urban coyotes, bobcats or neighborhood dogs is a distinct possibility.  Other factors such as high-volume traffic, high-voltage power lines and other urban hazards add to the mix of threats to the creature.
Monkeys in any situation are difficult to capture, even for the most experienced experts, and the challenge is magnified in a highly stressful urban setting.  So far, this animal has managed to avoid capture through sheer athleticism, sharp eyesight, an apparently intuitive understanding of the dangers of crossing the street and a lot of luck.  Such luck, however, is not likely to continue indefinitely.
"We understand the need for comic relief, as well as the compassion people feel for this engaging creature.  Those things, however, are not of primary concern to our agency.  Rather, it's how people act upon those feelings that can cause serious consequences to those in direct contact with the monkey," said Gary Morse, spokesman for the FWC.  "This animal's only real chance for survival is to be caught and then cared for by an accredited facility, where it can interact with other members of its own kind."
The FWC urges those who see this monkey not to feed, try to capture or interact with it in any way. If you spot this animal, return to the safety of a building or your vehicle and immediately call the FWC's Wildlife Alert Hotline at 888-404-3922, and leave the monkey business to the FWC.
KISSIMMEE – In an unwise decision, civic leaders in this town are planning to demolish the town's shuffleboard courts. They date from 1941 and are the Kast Shuffleboard Courts.
That news according to The Daily City blog. The blog has photos and a whole story on the issue. Read more
TALLAHASSEE- Lu, resident hippopotamus at Homosassa Springs, last week celebrated his 50th birthday with park staff, visitors and Homosassa Elementary School students who presented the hippo with his own birthday cake.
A fixture at Homosassa Springs since 1964, Lu's claim to fame is his role as a former movie and television star with the Ivan Tors Animal Actors troupe, which wintered at the park while in private ownership. He is credited in the 1960s movies Daktari and Cowboy in Africa, and in television specials such as Jack Linkletter Show and Herb Alpert Special.
"This year marks a special milestone for both Homosassa Springs and the state park system as a whole," said Homosassa Springs Manager Art Yerian in a press release. "Both a 50th birthday and the 75th anniversary of Florida State Parks makes this a great time for residents and guests to experience the fascinating wildlife and affordable fun at Homosassa Springs Wildlife State Park."
Lu, an African Hippopotamus, was born at the San Diego Zoo on January 26, 1960.  He weighed 90 pounds at birth and now weighs more than 6,000 pounds.  As a vegetarian, Lu consumes 15 pounds of alfalfa hay, four scoops of herbivore diet and a five gallon bucket of vegetables and fruit every day.
Although Lu's fame has remained steady for more than four decades, his state park habitat was once jeopardized.  When the Florida Park Service purchased the attraction in 1989, the state planned to shift the emphasis of the park to native Florida wildlife and find homes for all the exotic species, including Lu.  Public support, however, led Governor Lawton Chiles to grant Lu an exemption in 1991.  Special Florida citizenship has allowed Lu to stay at the park, and his fans to continue to display their appreciation annually at his birthday celebration.
Located 20 miles north of Florida's newest state park Weeki Wachee Springs, Homosassa Springs is one of the region's most popular attractions. An underwater manatee observatory provides a unique view of Florida's famed sea cows. In addition, a 1,600-foot Wildlife Walk showcases the natural habitats of bobcats, cougars, otters, bears and hundreds of birds. The state park also offers boat tours, trails, picnicking and an interactive Children's Education Center and Museum. To learn more about Homosassa Springs and Lu the hippo, visit http://www.floridastateparks.org/homosassasprings/default.cfm.
OXFORD – The Sumter County Sheriff's Office responded to a Sumter County residence on Wednesday morning after receiving a call that a snake was strangling a child. When the officers arrived on the scene, the child was dead, and the snake was found under furniture, having been stabbed by its owner.
Charles Jason Darnell (DOB 03-26-77) told officers he placed his 8-foot, 5-inch albino Burmese python in a bag and put it in an aquarium Tuesday night. When Darnell woke in the morning, he said he discovered the snake had escaped from both the bag and the aquarium. He told investigators that he discovered the python on top of Shaiunna Hare, age 2, and then he stabbed the snake before calling 911, according to Sumter County Sheriff's Office Lt. Bobby Caruthers.
Darnell is the boyfriend of the child's mother, Jaren Ashley Hare (DOB 09-08-85). Two older children were also in the residence at the time of death. They were unharmed.
The Sumter County Sheriff's Office is leading the investigation with help from the Florida Fish and Wildlife Conservation Commission (FWC).
"This is a very sad situation," said Sheriff Bill Farmer. "We've never had anything like this in Sumter County or even Florida. To keep a large, unsecured snake in the house is just asking for trouble."
Burmese pythons are classified as Reptiles of Concern, and their owners must secure permits from the FWC's Captive Wildlife Section to keep them as pets. Approximately 450 licensees currently are permitted to possess Reptiles of Concern and/or venomous reptiles in Florida. The license costs $100 per year and mandates specific caging specifications and other requirements. Permits are issued to individuals at specific locations. No permit had been issued to Darnell or the residence in Sumter County. It is a second-degree misdemeanor to possess a Reptile of Concern without a permit.
Burmese pythons pose little risk to humans, and there have been no other documented attacks in Florida. Documented human attacks by pythons in the United States have involved the snake's owner or immediate family.
The snake was alive when officers removed it from the house on Wednesday afternoon. Investigators still are gathering information in the case.
PALM BEACH – A homeless man here allegedly took sea turtle eggs to sell as aphrodisiacs, or for cooking.
Information gleaned from an early morning traffic stop in Palm Beach on Friday resulted in a multi-agency effort and race against the clock to save more than 100 sea turtle eggs that could sell for $35 each.
A police officer, from the Town of Palm Beach, conducting surveillance stopped Bruce W. Bivins, DOB 07/22/56, in the early morning hours Friday. The officer received information from a traffic stop that a man was possibly taking sea turtle eggs from the beach. Soon after, the officer noticed Bivins walking over the Southern Boulevard Causeway bridge with a bag. Bivins took off when the officer tried to stop him.
The officer watched as Bivins threw the bag into the water. Once a back-up officer arrived a short time later, Bivins was placed in handcuffs, and the officers pulled the bag out of the water. Officers found 119 sea turtle eggs inside in the bag. Bivins was taken into custody, and Palm Beach police called the Florida Fish and Wildlife Conservation and U.S. Fish and Wildlife Service.
The FWC charged Bivins, who is homeless, with possession of sea turtle eggs and disturbing a sea turtle nest, both felonies. He was booked into the Palm Beach County jail.
Just before sunrise, the eggs were safely reburied on Palm Beach. FWC biologists will monitor the site. It is hoped at least some of the eggs will hatch.
This is not the first time Bivins has been arrested for poaching. In 1997, he was charged with possessing sea turtle eggs. Sea turtle eggs can be sold on the black market for as much as $35 a dozen. They are presumed by some people to have aphrodisiac properties; in years past, sea turtle eggs also were used in cooking and baking in some areas of Florida.
"We are pleased to bring this repeat wildlife resource offender to justice," said FWC Capt. Jeff Ardelean. "This arrest happened because of the cooperation among local, state and federal agencies."
Sea turtle nesting season has begun on Florida's coast. Sea turtles are protected by state and federal laws. It is against the law to take, possess, disturb, mutilate, destroy, sell, transfer, molest or harass marine turtles, nests or eggs. For more information on sea turtles, see research.myfwc.com.
POINCIANA – A pregnant captive cougar named Sierra is back in captivity, safe and sound, after a 24-hour walkabout in the Poinciana area of Osceola County. She returned Sunday around dusk to the location where she escaped a day earlier.
Monday morning, the handlers for Jungle Adventures, the permitted owner of the cat, took Sierra to her veterinarian for an examination and assistance with delivery. (Editor's Note: the image at right is a generic cougar shot from the U.S. Fish and Wildlife Service).
The captive-born, -bred and -raised cougar escaped from her handlers Saturday afternoon while they were trying to put her in a transport cage so they could take her to a veterinarian. She slipped out of the two leashes handlers were leading her with and dashed off into some thick woods. Despite search efforts by the Osceola County Sheriff's Office and the Florida Fish and Wildlife Conservation Commission, Sierra remained missing until reappearing on her own Sunday.
"The people handling Sierra set out bait in a cage to try to catch her Saturday night or early Sunday morning, but the cougar was able to take the bait without being caught," said FWC Lt. Rick Brown. "However, as they were re-baiting the trap early Sunday evening, Sierra stepped out of the woods and looked at them as if to say, 'Where have you been?'"
They called out to her, and she came right over without further ado. Sierra has no claws on her front paws and was wearing a collar when she took off.
The cougar actually belongs to Jungle Adventures in Christmas but had spent Friday night at the Poinciana home of Lynne Hawkesworth in preparation for her trip to the vet on Saturday. Hawkesworth, 54, lives at 4983 Brook Rd., Kissimmee.
Unfortunately, Hawkesworth does not have a permit to possess a cougar, but does have experience working with them.
Sierra had had an unsuccessful pregnancy in the past, in which she lost her kittens, and the owners were hoping to avoid similar problems by having the vet perform a C-section on the cat.
When she returned Sunday, the cougar was in labor, according to Brown. Hawkesworth is allowed to keep Sierra until she gives birth, and then has to move her and her kitten or kittens back to Jungle Adventures immediately.
"She has a cage that is structurally suitable to keep the cat in for this temporary purpose, but she does not have proper facilities to maintain the cougar at her house," Brown said.
Brown cited Hawkesworth for possessing the cougar without a permit and gave her a warning for the escape. Both are second-degree misdemeanors.