SARASOTA – Some feel that there is a special spiritual quality in Sarasota; new-agers flock to the city for the beaches, which some say is crystal quartz from Atlantis. While fun to believe, what is certain is that old fashioned religious communities flourish here. Read more
JACKSONVILLE – Faith Christian Center Jacksonville was founded in August 18,1996 and is led by George Bishop. It's Bishop's belief that "the world will become impressed with he church when the church is truly impressed by God."
ORLANDO – When visiting Orlando, there are many church options.
One of the more historic is First Presbyterian Church, founded in 1876. From a small house church, it grew into a downtown campus of buildings and is now one of the more influential congregations here. Read more
FORT LAUDERDALE – Sawgrass Mills, the largest outlet, value retail and entertainment destination in the United States with over 350 stores, continues to add more to its retail mix with the recent openings of world-renowned Prada, Bloomingdale's – The Outlet Store, G by Guess and the first Coach Mens Factory in Florida.
Both the 25,000 square-foot Bloomingdale's – The Outlet Store and the outlet concept from Prada are located in The Colonnade Outlets at Sawgrass Mills, which recently completed an expansion project, adding other luxury retailers such as Canali, Giorgio Armani General Store, TAG Heuer, Tommy Bahama's Outlet, True Religion Brand Jeans and Tumi. Read more
SARASOTA – For generations, visitors have come here for general "healing" from the warm, white sands of Siesta Key. But there is a more practical sort of healing that goes on in Sarasota with churches and healing teams who assist pilgrims in search of spiritual healing. Read more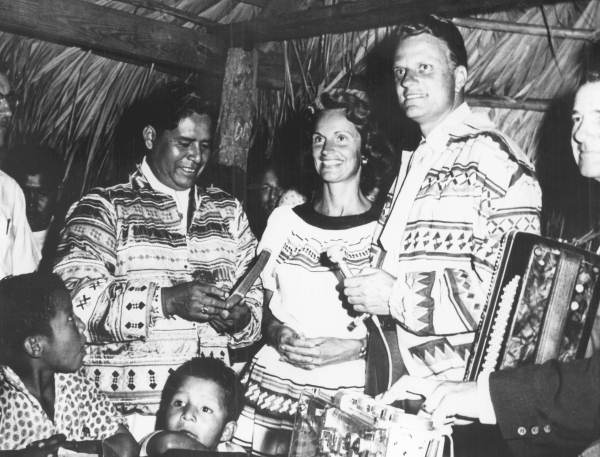 Florida is a major part of the development of the American evangelist Billy Graham; the state is now also the home to his grandson's church, Coral Ridge.
Graham grew up near Charlotte, North Carolina, but truly became an evangelist in Florida. Graham came to Florida because of an ad for Florida Bible Institute in Moody Monthly.
Graham immediately acquired a taste for Florida's palm trees and warm climate. And while in school here, he preached at dozens of churches, all the while attending Florida Bible Institute. Read more
MIAMI — This summer, June 3 through August 12, the Coral Gables Congregational Church Community Arts Program stages its 25th Anniversary Season Summer Concert Series. Concert goers throughout Florida and the world will again gather within the Church's rare and intimate Spanish-revival edifice listed in the National Register of Historic Places and enjoy some of the music industry's most revered classical and jazz artists for ticket prices that start at only $25.
June 3 – PRESERVATION HALL JAZZ BAND is hailed as "stunning, joyous and alive." Direct from the Crescent city and the historic birthplace of the band nearly a half a century ago.
June 17 – MARK KOSOWER, newly-appointed Cleveland Orchestra principal cello, is one of the outstanding cellists of his generation.
July 1 – ANN HAMPTON CALLAWAY, singer and songwriter, is known as an insatiable creative spirit and as a champion of the Great American Songbook.
July 15 – AWADAGIN PRATT, classical pianist, is acclaimed for his musical insight and intensely-involving performances in recital and with symphony orchestras.
July 29 – July 29 – NICHOLAS PAYTON, jazz trumpeter, made his recording debut in 1994 as a leader with From this Moment and ever since has been lauded as a significant, top-tier voice in jazz.
August 12 – RAMSEY LEWIS, jazz pianist, is a captivating and multiple
WINTER HAVEN – Setting a TV show in Florida gives it insta-background. Swaying palm trees, easy weather for filming.
Such was the idea of the ministry of the religious program Day of Discovery, which for years filmed many of its TV shows at Florida's Cypress Gardens. SEE FUNKY COOL VIDEO HERE Read more
When you visiting Florida, finding a great church is easy; Florida has some of the country's most dynamic congregations. Your hotel concierge can tell you about services and denominations that can turn a fun vacation into a week of personal transformation. Here are just a sampling of some of the religious offerings in Florida:
MIAMI Father Albert Cutié, known to viewers of EWTN, leads mass at St Francis De Sales in South Beach. Along with his TV show, he has written a book on relationships. The church is on Lenox Avenue (621 Alton Road) in Miami Beach. Their slogan is "When You come to the beach, don't forget who made it." Info at www.saintfrancisonthebeach.com
WINTER PARK Pat Morley has led thousands of men around the world to Jesus Christ through his Man In the Mirror ministry. It all started with a Friday morning bible study that grew, and grew. He still leads the men's bible study each morning at the Winter Park Civic Center at 6:50 a.m. If you are in the Orlando area, come by and meet him. www.maninthemirror.com.
FORT LAUDERDALE Dr. James Kennedy's Coral Ridge Presbyterian Church, seen on his television ministry, is known across the world for his practical teachings and scriptural integrity. Visit them on Sunday. While Kennedy died in 2007, his church, founded in 1959, has not. www.crpc.org
LAKELAND The Lakeland Outpouring, an old fashioned revival through the Ignited Chuch, will continue through 2008. The nightly revivals include healing, singing and preaching. More information is at www.ignitedchurch.com
DAYTONA BEACH The Drive In Christian Church (Disciples of Christ) has been in operation since1953. In cooperation with the owners and management of the Neptune Drive-In Theater, the members of The First Christian Church of Daytona Beach organized and sponsored a Drive-In service. It continues today. www.driveinchurch.net

PENSACOLA In downtown, the Episcopal Christ Church has over 150 years of history. Its original building is the oldest standing church building in Florida, dating from 1832. The new church, in the Spanish Renaissance Style, dates from 1903. www.christ-church.net